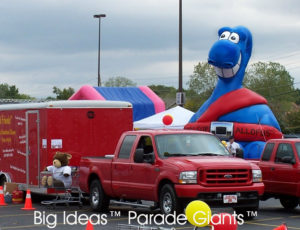 Buckleupallofus is a very popular and effective child safety mascot that promotes car seat, booster seat and seatbelt safety for families. The character's big bold image instantly attracts the attention of children everywhere it is displayed. Without a single word this unique child safety character sends his important BUCKLE UP ALL OF US message… Buckle Up All Of Us!!! The character sports a tail unlike any other tail in the history of tails. He has a seatbelt for a tail. Children across New England have been receiving Buckleupallofus publications and products for nearly a decade. From coloring books to bumper stickers & displayed on posters in schools to huge outdoor billboards on highways, this cool safety mascot has grown stronger and more usable with each passing year. This character has been proven to be extremely effective in educating families about seatbelt safety. Items featuring the friendly safety mascot have been passed out to children by dozens of child safety agencies from the community level to the federal level. He is very popular with law enforcement and rescue/fire departments that want to educate kids about seatbelt safety in their communities. Buckleupallofus is supported by many, many, many child safety agencies. Thousands of coloring books are distributed each year in New England featuring this creative character.
Buckleupallofus will now reach a much larger audience with the efforts now being taken to introduce him to children nationwide through your organization and corporate support.  Jim has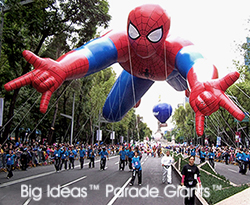 teamed up with Arizona based Ken Moody and New York based Chip Schilling, both from Big Ideas Inflatables Inc / Parade Giants LLC, to bring his Award-Winning child safety messages and cartoon characters to events throughout the USA and countries worldwide. Plans are in place to showcase his safety characters created into giant cartoon character balloons by appearing in parades and events nationwide in 2017.
With the strength of a proven track record this character can be featured at events, grand openings, auto dealerships, safety venues, businesses, shopping centers, and especially malls as a reminder to families to always buckle up. Drive through exits and exits that lead to parking lots are just a couple of locations that can send a very powerful message to children and their families. The character can distribute coloring books and stickers and just about anything to the exiting kids to take home as a costumed cartoon. Kids love to get stuff and sponsors love to reach families with goodwill gestures. It's great for business and great for families. The character doesn't need to be a recognized cartoon character on tv to be popular. The character does that on its own merit. Parents and grand parents would much rather have a great cartoon character that can help save their child's life rather than a meaningless character icon who's only strength is that it is on tv. The kids love Buckleupallofus because he is a cool character with a funny smile and a seatbelt for a tail.  That's what separates him from the rest. His power over children's attitudes about buckling up is amazing. The potential is incredible for this child safety mascot and he has something that other characters don't have… a purpose and a place in "every child's life".